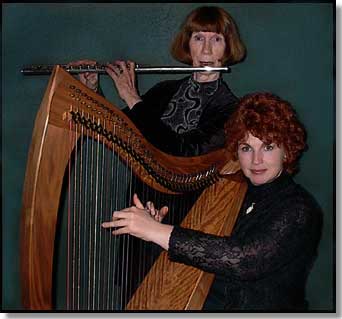 Barbara Hagist, flute
Laurie Wickenkamp, harp
We are the ensemble One Harp and a Flute, providing elegant music for any event where a relaxed timeless atmosphere is desired. Our repertoire focuses on original arrangements of Renaissance, Baroque and Classical Music from Ireland, Scotland, England and Germany, featuring music from renowned composers such as Byrd, Morely, O'Carolan, Bach, Handel and Mozart as well as beloved traditional tunes from those eras. We also play the customary selections for weddings.
Consider One Harp and a Flute for a variety of occasions:
Receptions and anniversaries
Social events and banquets
Weddings
Business receptions and corporate events
Private dinner parties
Teas and luncheons
Art exhibits and openings
Christmas events
And other special occasions
We are currently scheduling events in the Oklahoma City Metro area and South-Central Oklahoma. Special arrangements are available for other locations.
For information and booking:

Laurie Wickenkamp
One Harp and a Flute
P.O. Box 352
Pauls Valley, OK 73075

(405) 207-7600
laurie@oneharpandaflute.com
*Mother and daughter Barbara Hagist and Laurie Wickenkamp comprise the ensemble One Harp and a Flute
Click on an image to view it larger: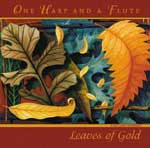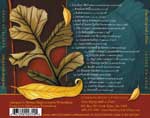 The original arrangements in our debut album, Leaves of Gold, feature the ethereal song of the flute and the soothing tones of the harp in an ageless blend of Renaissance and Baroque music from Ireland, Scotland and England. These haunting yet inspiring melodies have transcended time, speaking to the places in our hearts that are beyond words.
"A Christmas Rose" is a calming collection of old European and early American Christmas carols, bringing a peaceful atmosphere to your holiday.